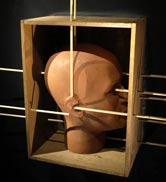 Near the Sforzesco Castle , entrance Via Q. Sella 4, the Museum presents Leonardo da Vinci as master of painting and citizen of Milan with two permanent exhibitions, unique in the world:

• "Appreciating Art through the Eyes of Leonardo Da Vinci". The most important articles of the Treatise on Painting, containing his ideas and advice to painters and sculptors, are explained with practical examples and interactive stations.

• "Leonardo Da Vinci Citizen of Milan". An overview is given of his intense activity during the twenty years spent in Milan, the city where Leonardo gave expression to all the aspects of his universal genius.

The Museum also houses didactic exhibitions and interactive test stations on how to distinguish authentic antique objects from copies and fakes. A scientific laboratory at the service of art develops and applies methods for determining authenticity and is open to the public. Specialities: measurements of the age of wooden objects, research on the authenticity of paintings, excavated pottery and bronzes, ivory etc. Rich collections of Buddhist and African art complete the exhibitions which, in their total, include over 2.000 items on display in 18 rooms.